Posted by

[email protected]

on December 5, 2014 at 9:45 PM
Typhoon Hagupit, locally known in the Philippines as Ruby, is located to the east of Can-avid, Eastern Samar, over the Visayas region of the Philippines. It is expected to move west to west southwest at 10 km/h in a weak steering environment. It has weakened since its peak, nevertheless, it remains a threat to a large part of the Philippines due to its size.
It is the second major storm to affect the Philippines this year, months after typhoon Rammasun had battered the southern and central portions of Luzon, which cause massive power outages and destruction. It roughly follows the track of one the largest weather disasters in the planet last year, typhoon Haiyan, although it had it several miles to the south. Hagupit is expected to make landfall over the central portion of Eastern Samar by Saturday evening local time, as it moves very slowly. The typhoon brings the threat of flash floods and mudslides due to its precipation, and as it gets a higher accumulation due to its slow movement over the affected areas. 
Recent forecasts have shifted more to the south, mainly due to better agreement with the model guidance and other agencies. Though the exact location of landfall is unknown, it is expected to bring powerful winds near Tacloban.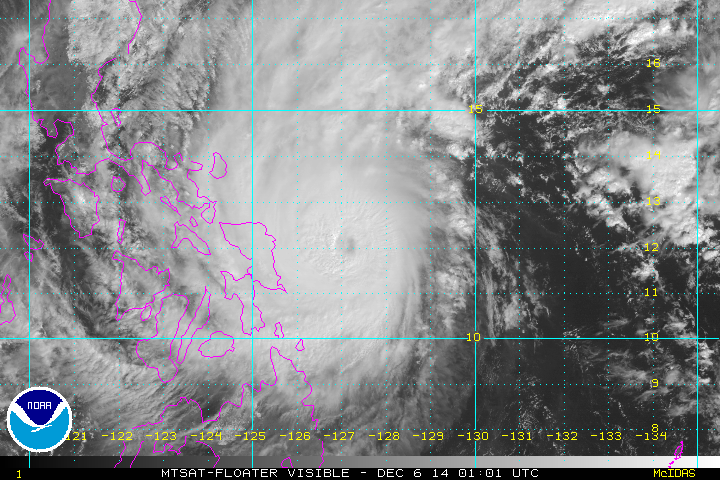 Over the past few days, there had been considerable uncertainty in the storm track. However, the agencies and models have gradually shifted toward the south and west, but it still remains.
The main threat of the typhoon is its rainfall, as it is expected to bring an abundant amount especially to the mountains of Samar and Leyte. Evacuations are taking place especially over Southeastern Luzon and most of Visayas. 
Now I hope the preparations could be enough, and there would be less impact than the previous storms which passed this area...